Abby County Market Kitchen - Catering and more!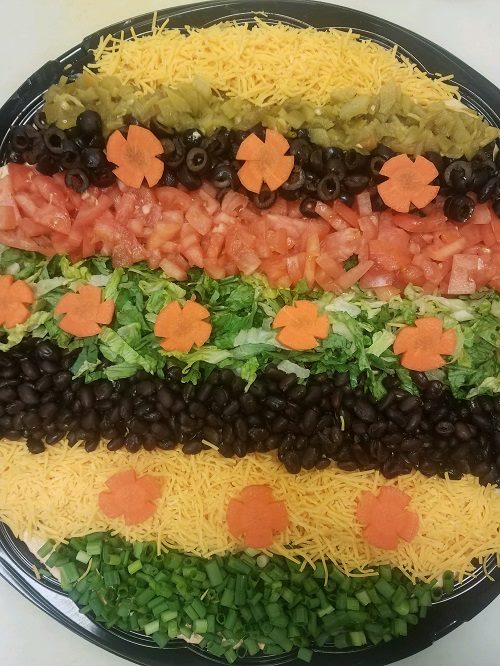 Everyday we are here to help you with all your parties, business meetings, special dinners, funerals, and so much more!
From casual eating to formal dining, we can work with any budget. Call us or stop by to talk about all the options and sampling to fit your menu needs!
Our Deli Department offers a wide variety of items to help you out, including:
Cheese Trays
Sausage Trays
Cheese and Sausage Trays
Sliced Meat Trays
Shrimp Trays
Traditional Sandwiches
Vegetable Trays
Relish Trays
Fruit Trays
Seasonal Fruit Trays
The Abby Kitchen also offers Catering for your special event. Choose meals that include 1 entree (9 to choose from), with 2 side selections, dinner roll, butter and condiments for only $10.99/ person. Or choose from our shredded meat selections, "turkey" buns, 2 sides, condiments and pickles for only $9.99/person.
Interested in other options? Party favorites such as flavored chicken wings, chicken (fried, grilled or baked) priced per piece, brown bag lunches, Abby's Famous Chicken or Beef Bowls, or Abby's 6 Foot Torpedo Sub (serves 18-36) are available made to order!
Call our Deli at 715-223-2378, for help in planning your special event today!
Abby County Market's Daily Deli
Stop by Abby's Deli for our hot lunch offerings every weekday from 10:30am - 1:30pm! Build your own and pay by the ounce.
Monday - Italian
Tuesday - Mexican
Wednesday - Comfort Foods
Thursday - Chinese
Friday - Party/Finger Foods
In a hurry? We offer 45 different sandwiches for a grab 'n go style lunch!
Abby's Deli offers many different salads, HOT soups, fresh meats and more daily. Stop by the Deli while shopping at Abby County Market.
Any questions, please call our friendly staff at 715-223-2378.